September 3rd, 2020. 1PM – 4PM. EST
IMMEDIATE HIRING :
Do you enjoy working in a fast-paced environment? Do you have warehouse experience? Do you like to be out-and-about? Do you enjoy meeting new people every day? Come join the team at FedEx Express as a Cargo Handler or as a Courier at Richmond or Burnaby locations in British Columbia, Canada!
---
JOB POSTING:
COURIER
Position Summary:
To load and unload aircrafts and vehicles, sort packages and provide efficient delivery and pick-up of packages; to check shipments for conformance to Federal Express Canada features of service; to provide related customer service functions.
Required Knowledge, Skills and Abilities:
Must possess a High school diploma or educational equivalent
Must achieve minimum threshold on mandatory pre-placement driver assessment training
Must possess a valid Class 5 driver's license and have a good driving record
Ability to lift 70 lbs. and to maneuver any package weighing up to 150 lbs. with appropriate equipment
Total Rewards Package:
Benefit plans: medical, health, dental, orthodontics, vision, etc.
Pension plan
Education assistance / tuition reimbursement
Community involvement: Canadian Blood services; Disaster Readiness, Relief and Recovery
Vacation
Discounts: travel & entertainment, health &lifestyle, home & auto and electronics
---
JOB POSTING 2:
CARGO HANDLER – WAREHOUSE
Position Summary:
Ability to maneuver packages of any weight above 50 lbs. with appropriate equipment. Clerical experience including typing or general office administration duties preferred. Good human relations and communication skills. Ability to successfully complete all basic and re-currency training. Non-covered safety sensitive position; ability to work in a constant state of alertness and in a safe manner.
Required Knowledge, Skills and Abilities:
Ability To Lift 50 Lbs.
Experience heavyweight freight using forklifts, tugs and other loading/unloading equipment.
The Ability To Communicate Both Timely And Effectively In A Noisy Operations Environment, Is Required.
A Valid Driver's License is Required
Total Rewards Package:
Benefit plans: medical, health, dental, orthodontics, vision, etc.
Pension plan
Education assistance / tuition reimbursement
Vacation
Discounts: travel & entertainment, health &lifestyle, home & auto and electronics
---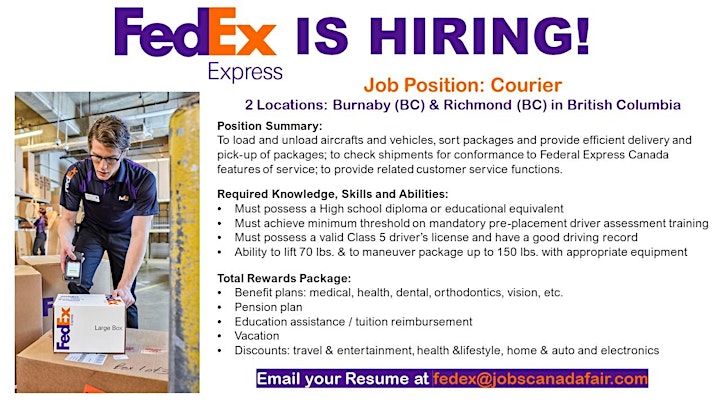 ---